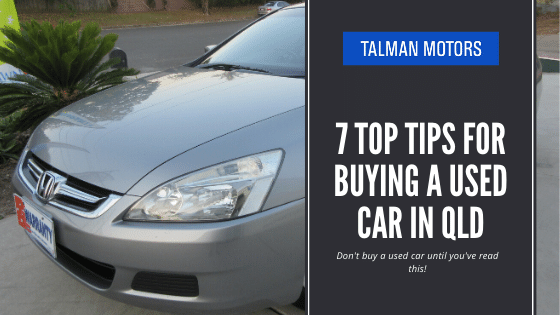 If you're in the market to buy a used car, there's endless sellers around wanting your business.
Private sellers, well-known dealers, carsales.com.au, gumtree.com.au and carsguide.com.au amongst many others. There's also smaller family dealers like me.
No matter where you plan to purchase your car from, there's a few tips you should know that will help you feel more confident you're buying the right car.
And, more importantly, being aware of the risks of buying a car privately and potentially making a purchase that you'll later regret.
From time to time problems do come up with cars that cannot be foreseen, just like anything else you buy. But there are ways to minimise your risk and improve your chances of getting a great car that you love.
After many years of experience in the car industry, here's my best tips for buying a used car.
1. Check the Logbooks
Make sure the seller has logbooks available so you can see the car's service history. A car that has been regularly serviced is likely to be running a lot more smoothly than one that hasn't been well maintained.
2. Do a check on the Personal Properties Security Register (PPSR)
For a small fee you can do a check on the vehicle in the PPSR to find out whether the car is stolen, a write-off or owes money on finance (clear title). When you do this check, you need the vehicle's VIN (vehicle identification number) which is can be located along the insert of the drivers side door, on the body of the vehicle, at the bottom of the windscreen on the passenger side, or under the bonnet.
Dealers have to disclose to customers if a car is a write-off.
Written off vehicles' can indicate the car has had a bad accident, been hail damaged or flooded for instance, and an insurance payout has been made because the value of fixing the car was worth more than the value of the car itself. There are risks involved if the car has been a write-off. If you don't do the PPSR check and you find out after you've bought the car that it was stolen, you will lose your car and the money you spent purchasing it.
3. Check there is a Roadworthy Certificate
Also know as your RWC or Safety Certificate, any used vehicle purchased must have a current Roadworthy certificate whether it is being sold privately or by a dealer. If you are considering buying a car privately and a Safety Certificate is not available, this could be a reason to be suspicious that there is a lot of money needed to fix the car.
4. You can get a Car Facts Report if you're unsure
If you want a more detailed history of the car you are buying, you can purchase a Car Facts Report. This is a more in-depth report than a PPSR and tells you how many owners the car has had, whether there could be discrepancies with the odometer (kilometres driven) and other checks.
5. Take it for a Test Drive
Make sure you do a test drive. Check that you like the way the car drives, listen for any unusual noises and check if the vehicle is smoking from the exhaust.
6. Take it to a mechanic for a Pre-Purchase Inspection Report
If you're buying a car privately, for peace of mind I suggest you get a pre-purchase inspection report. A qualified mechanic can run a series of checks on the car you are looking at to identify any problems and advise you of repairs that may need to be addressed in the near future. If you're on the Gold Coast my preferred mechanic is Ashmore RWC and Automotive.
7. Understand Warranties
Something to bear in mind when you're buying a used vehicle is if you buy a private car you have no warranty. All dealers offer a 3 month statutory warranty under certain conditions. You can find out more on the QLD Government website. You can also purchase extended warranties from dealers which will cover you for a range of problems that may arise with your car in the specified warranty period. Note that not every issue is covered though. Some warranty providers have had a bad rap in the past, although my preferred warranty provider AWN offers a range of warranties that are quite comprehensive.
In Summary:
It will usually be a safer bet to buy a used car from a dealer. You get peace of mind that you have guaranteed ownership of the car, you'll get a PPSR report so you will know with confidence that the car has a clear title (no finance owing), is not stolen or a write-off.
Not only that, the car will have been mechanically checked and there's less likelihood of nasty surprises. You have a 24 hour cooling off period in QLD to change your mind after you have signed the contract, however, once you take delivery of the car, the cooling off period ceases. Although be aware that if you change your mind during the cooling off period a dealer may keep $100 of your deposit.
Good luck purchasing your next used car, and be sure to check out my current stock if you're in the market.
At Talman Motors every car comes with PPSR Certificate, guaranteed clear title, Roadworthy Certificate, and is mechanically and safety checked.
Why not give me a call if you don't see what you're after. I could have the car you're searching for.